Basswood Bitty Boy #2-06
Carved January and February 2006
Basswood
Painted with Liquitex Acrylic Paints, and varnished with Liquitex Matte Varnish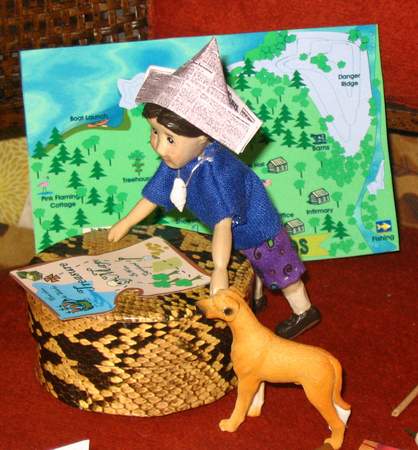 He is an adventurer, and is seen here looking over his pirate treasure map.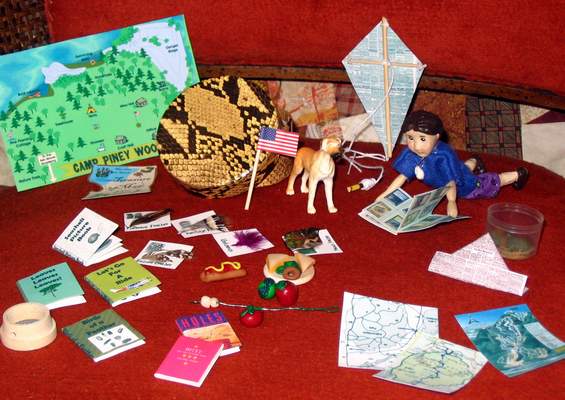 He is shown here with all of his worldly possessions.
5 books that open
2 books that do not open
a Map of Camp Piney Woods
a Treasure Map
3 maps of White Face Mountain and the Adirondack Park
A Newspaper Kite and a Newspaper Hat
2 Apples, 1 Tomato, 1 Hotdog, 1 Lunch Plate, and Marshmallows on a Stick (all Fimo)
A Sifter for searching for fossils.
A Flag
A Turtle in his tank.
A dog
A Seashell Necklace (removable)
A Round Box covered with 'Snakeskin' to hold his goods.


This Bitty Boy is almost 4" tall, if he stands on tip-toe.

Details


1. Carved entirely of Basswood

2. Signed and dated

3. Painted with Liquitex Paints

4. Covered with multiple layers of Liquitex Matte Varnish.

5. Dressed in shorts and a t-shirt.

6. Has carved and painted socks and shoes.

7. Has a faithful dog companion.

8. Is a collector of almost anything!

9. Likes to read.

10. Is good with small animals.

Here we see just what I mean by 'a collector'. He has started a feather collection,
and has his feathers mounted on white cardstock, with the name of the feather.
His books shown ( Birds of a Feather, Let's Go for a Ride, Leaves Leaves Leaves, and Seashell Picture Book) all open and have readable pages.
He also collects Harry Potter trading cards, and his binder (shown to the right) opens.


He has rosy cheeks, because he's outside all the time.
He would be a good companion to the more active Hittys.


His hair is dark brown, and although he is very active, he is diligent in good grooming and even washes behind his ears.
Or so he says.


As you can imagine, all that fresh air gives him an appetite.
He comes with a plate with grilled cheese sandwich, pickle chips, and a doughnut.
He also has two apples, a tomato, a hotdog, and marshmallows on a 'stick'.
The two books shown (Hitty and Holes) do not open.



This Bitty Boy is quite creative, and has designed a kite from
newspapers. Hey! Don't let the dog pull the tail off!


He is jointed with elastic for a greater range of motion. I used tiny seed beads outside
the arms and legs to hold the elastic in place without huge knots.


He is signed with my initials (JGD)
and dated with his number and the year.
He is #2 of 2006.


Being jointed with elastic means a greater range of motion for
this active boy.


He has also 'collected' a small turtle he found in the woods.