© 2004 Julie G. DeGroat
All rights reserved. This Tutorial may be printed for personal use only. You may not print and sell this Tutorial.
However, you may make and sell as many pumpkins as you can!
Welcome to our Clay Pumpkin Tutorial.
Are you ready to pick some pumpkins from Hitty's pumpkin patch?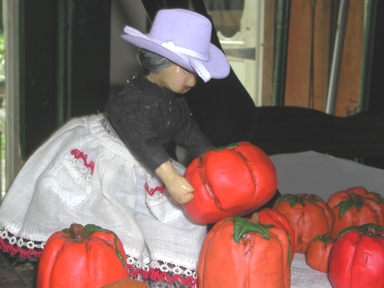 ~~~~~~~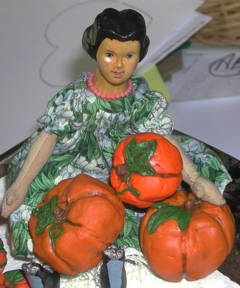 Mrs. Plum and Hitty Jayne inspect the newly harvested pumpkins.
The best pumpkins will be stored in the attic to be used as needed throughout the winter.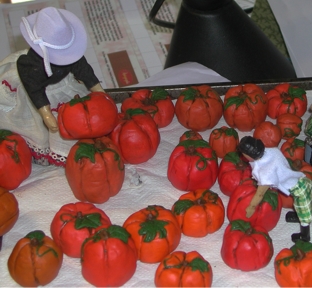 Hitty Cappy Thompson picks out a pumpkin to carve for Halloween.
Orange Fimo or Sculpy oven-hardening clay
Green Fimo or Sculpy for leaf and vine
Brown Fimo or Sculpy for stem
Brown Stain
Toothpick
Aluminum Foil
1 Tissue
Roll a tissue into a ball. Cover it with a 6" x 6" or so piece of aluminum foil, and roll this between your palms to form a rough ball.

Break off about 1/5th of the orange clay from the package, and roll into a ball. Then, flatten it with your fingers.

Place this flattened clay around the tinfoil ball. Smooth this with your fingers as you go. Make it into your pumpkin shape.

If you encounter foil popping through the clay, you can add and smooth another piece of clay over it.

Take the toothpick and make the 'lines' of the pumpkin. You can also use the toothpick to make other marks on the pumpkin.

To make the leaf, form a small ball, flatten it, and use your toothpick to cut 'leaf' shapes in the edges. You can then add the leaf 'lines' or 'veins'. Put it at the top of your pumpkin.

Roll a very small piece of brown for the stem. Use your toothpick to shape it into a stem.

Once the stem and leaf are in place, you will want to add a vine. Roll a small piece of the green you used for the leaf into a 'string'. You can vary the thickness of this, according to how thin or thick you need your vine to be. Pumpkin vines are 'curly', so just twirl it on the pumpkin as you like.

THIS IS THE TIME TO BAKE THE PUMPKIN ACCORDING TO THE DIRECTION ON YOUR CLAY PACKAGE. MAKE SURE TO FOLLOW THESE DIRECTIONS EXACTLY. MAKE SURE TO BAKE IN A WELL-VENTILATED AREA.

...

Once the pumpkin has been baked according to the directions on your clay package, you can leave it as it is, varnish it so it is shiny, or, as I did, add some brown stain to give it an earthy look.

If you want to stain it, merely paint on the stain, let it sit one minute, and then wipe it off with a dry rag. Let this dry completely.

Experiment with different paints to add color, highlights, or texture to your pumpkin.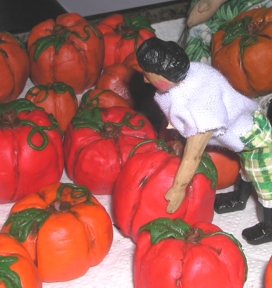 Hitty Cappy Thompson and some of our latest harvest.