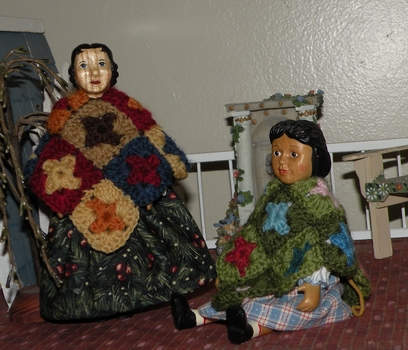 Poncho for Hitty
One Size Fits All
You Will Need:
Small amounts of fingering yarn.
I used KnitPicks 100% wool fingering yarn in various colors.
Crochet Hook in size 3/2.10mm (or about. This is a pretty forgiving pattern)
Scissors
Darning needle.
You also need to know how to crochet.
DC=double crochet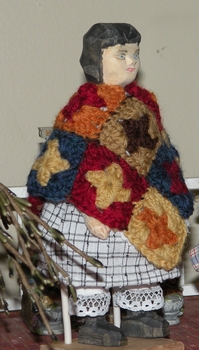 How to make a Granny Square
Color #1
chain 5, join into a ring. Chain 3 (this is your first DC post) 2 DC ch.1 in ring.
3DC ch 1, three more times. There will be 12 DC in ring (includes first chain 3)
Join, add Color #2
Chain 3 in your join 2 DC ch.1 3DC in same spot.
Skip 3 DC, then 3DC ch 1 3DC in top of previous round ch1.
Repeat three more times for a total of 24 chains.
End off, set aside.
Make a total of 12 granny squares.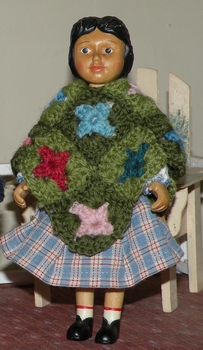 Lay them out as shown below, arranging for the best showing of your colors.
Sew the blocks together, as shown.
When done, right sides together, attach the two ends, following the arrows.