Canning Jar Travel Pincushion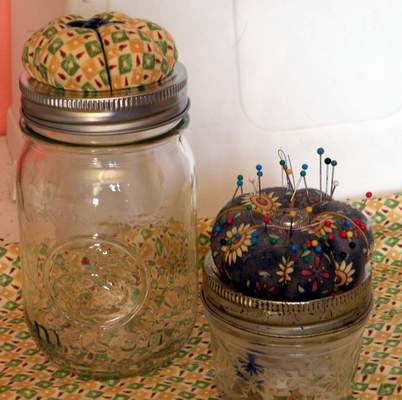 Left, the pint jar Pincushion made in this tutorial. Right, my personal half-pint travel pincushion.
Whether you are a quilter, or attend sewing meetings, or just like to take projects with you,
nothing works better than a canning jar pincushion! Use the pincushion on the lid for your pins,
and when you travel, they can be tucked safely into the jar.
I won't lie--there are two tough parts here! Feel free to use your favorite cuss words
when the batting springs from your hands for the seventh time.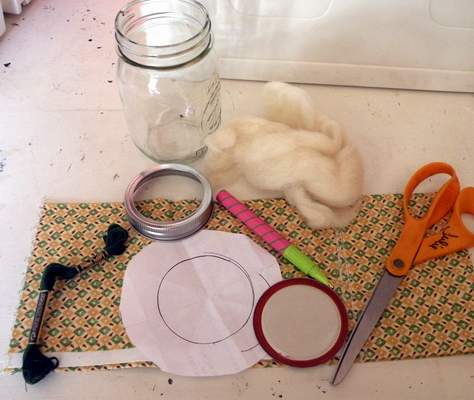 For this project you will need:
1 Canning Jar, any size. I like the half-pint and pint sizes best.
1 Canning Jar lid (can be a cleaned, used lid)
1 canning jar screw-ring
'About' 6"-7" of Fabric
Handful of wool roving (that's best, but if you don't have any, use any stuffing)
Embroidery Floss
(six strand)

1 Decorative Shank Button
Something to punch a hole in the lid (I use a hammer and nail)
Scissors
Darning needle
Pencil
Paper
Optional--2" x 2" felt for lining.
Let's get started!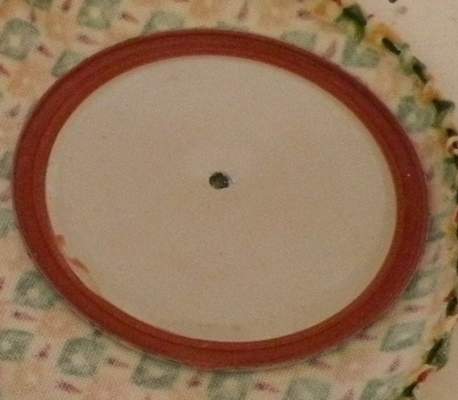 First, use something to punch a hole in the center of the metal canning jar lid.
I used a hammer and nail. I then used the hammer to crush down the
edges so they wouldn't be sharp.
Set this aside.
***
Take your canning jar lid, paper and pencil, and make a circle. It should be 'roughly'
2" wider all the way around than the lid. Don't stress on this, though. It's a very
flexible pattern, and a little larger or smaller is ok.
Thread a long piece of 6-strand embroidery thread onto the darning needle.
Folding the edge of your fabric circle over 'about' 1/8th inch as you go,
make a running stitch all the way around.
Leave a 6" length at the beginning, and do not cut your thread!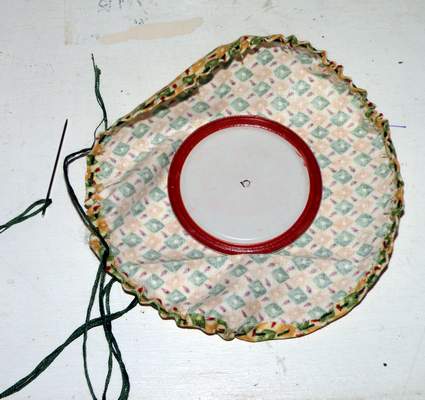 ***
Now comes the first tough part.
Take your roving (which is wool stuffing in a long 'rope') and twist is into as tight a coil as you can.
If you are using regular stuffing, wad it tightly.
Center this on your circle of fabric without letting go of it. Hold this in place with one hand
as you carefully pull your threads a little tight.
Cuss now when the roving pops out of your hand and begin again.
Once this is done, still holding that roving down tight, slip the lid on top of the roving,
and pull your threads tightly together. Tie off and once again--do not cut off your thread.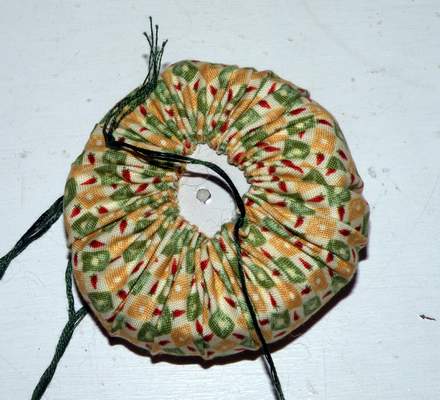 ***
Next, take the needle and push it from the bottom up through the hole and out the top of
the pincushion. Wrap this around the edge as shown, and come up the middle again.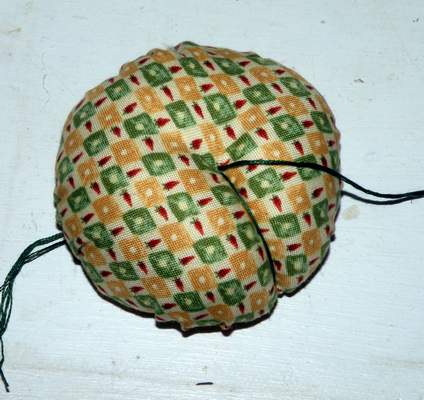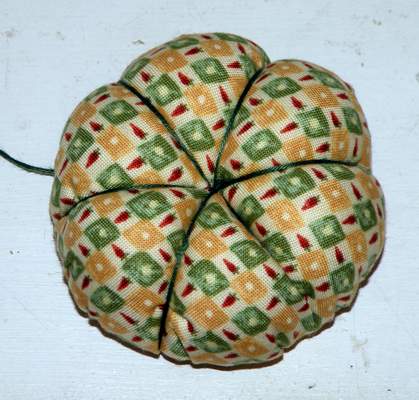 Repeat this to segment off the pincushion. I usually make six
segments, but hey--it's your pincushion! Make as many as you like!
When you are finished, go back from the top to the bottom and
tie off tightly. Again--do not cut your thread.
***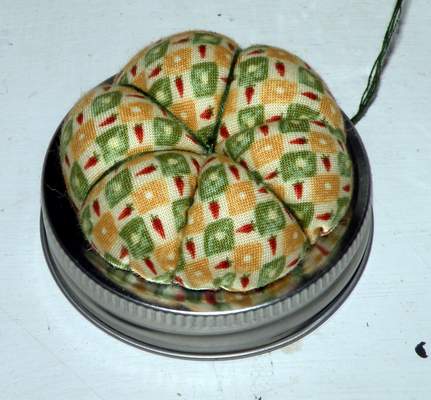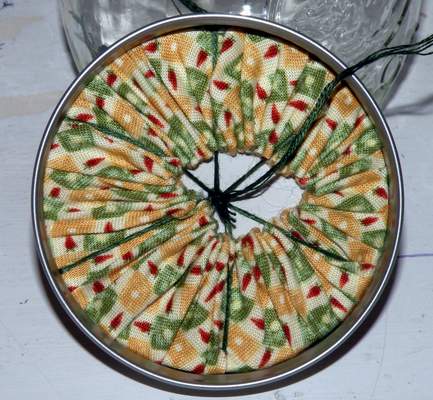 Before we add the button, we have to do the hard part #2.
You have to push the pincushion part up into the screw on lid of the canning jar.
This is very frustrating, because the lid, covered with fabric, really doesn't want to fit.
Oh well! Make it fit!
Just keep pushing from the bottom and pulling from the top. It is up far enough when you can
screw the lid onto the jar. Just keep going! It usually takes me a few minutes to get this part right.
Good news--the more you use your pincushion, the easier it gets to screw on and off.
***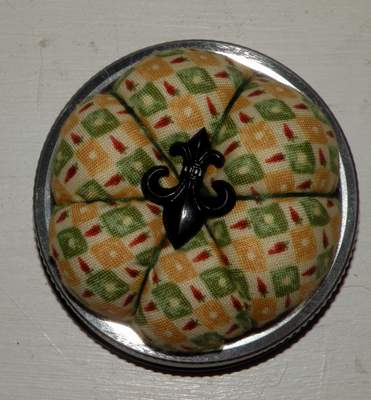 Last, come up through the bottom and sew on your
shank button. Because of the shape of the pincushion,
a shank button works best. But don't be afraid to try another kind!
If the 'raw' look of the inside of the lid bothers you, you can add a 2" circle of
felt to cover the hole. Make sure this does not extend to the edges, or
you won't be able to screw the lid on! Glue it in place.
There! Use the jar for storage of needles, pins, buttons, snaps, etc.
A pint jar is perfect for a spool of thread, too.
When you need to travel with your pincushion, simply remove the pins
and pop them inside. No tangling, no losing pins in your car!