North Country Necessities!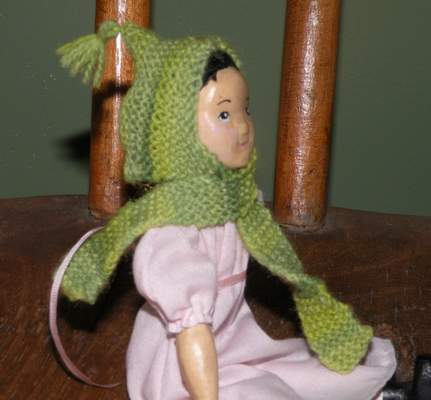 Hitty's Hat & Scarf Combo
This one-piece scarf keeps Hitty's head and neck plenty warm when she ventures out
in the most chilly weather! It knits up quickly, and can be easily adjusted to fit any Hitty.
Supplies Needed:
Laceweight Yarn
2 Double-Point Size 0 Knitting Needles
Scissors
Darning Needle
CO=Cast on
Garter Stitch= Knit every row
Tips: If your Hitty has a large head, you should CO 14 stitches instead of 12 stitches in step #2.
If you want a wider scarf, simply CO more than the 6 stitches in steps #1 and #3.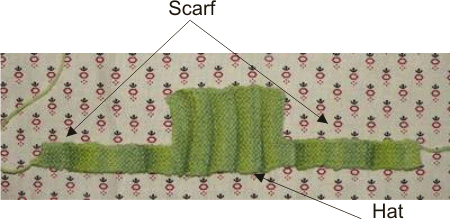 Step One
CO 6 stitches. Knit in a garter stitch until this strip is 3" long. (Scarf)
Step Two
CO 12 stitches at end of last row. (Total 18)
Work in garter stitch until this section measures 2 1/2" long. (Hat)
BO the 12 stitches previously cast on.
Step Thee
Knit the remaining stitches in garter stitch for 3 inches, BO. (Scarf)
Make sure you have both of the scarf ends on the same edge of the hat.
Step Four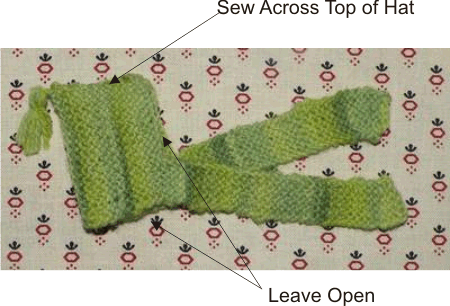 Fold in half, and sew up the top edge of the hat.
Step Five
Next, form the tassel. Wind yarn around your index finger 8 times.
Slip off your finger, and tie the top by using a 3" piece of yarn, going through all the loops, and tying tightly.
Tie another 3" piece of yarn around the top, about 1/8th inch or so down from the top, to form the *ball* at the top of the tassel..
Clip loops open on bottom, evenly across.
Use the darning needle to sew the tassel to the top of the hat.
There are two ways to wear this hat/scarf combo.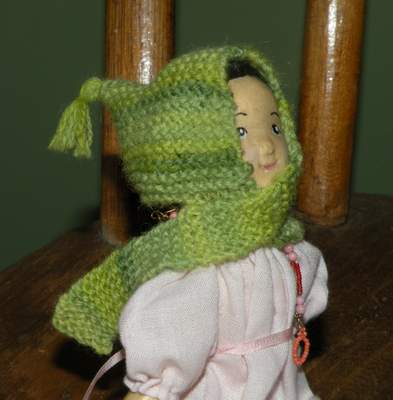 In this version, the scarf drops right down from the head.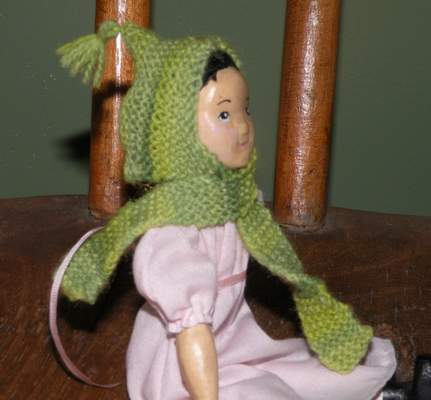 In this version, the scarf comes around from the sides.