Make a Pen You Can Always Find!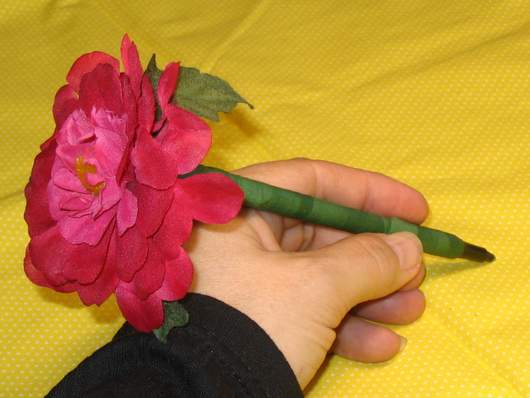 I keep a work log, and whenever I want to jot down a note I have to search and search for my pen.
Not anymore!! I was at the Theresa Post Office the other day, and needed tpo use their pen to fill out a form.
And the pens all had giant silk flowers on the tops! I was impressed.
I examined the pens, and then came home and made my own verson, which I am sharing with you today.
Believe me, it's very hard to misplace a pen with a giant silk flower on the top--and my sons don't take them either.
(Note: children not taking them does not apply to teen-aged daughters. Sigh.)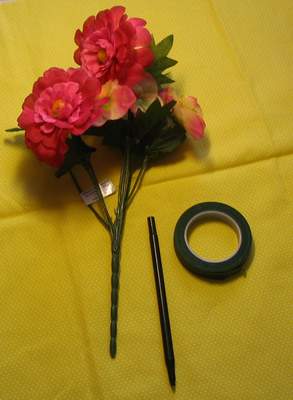 Supplies needed:
1 Silk flower
1 Pen
1 roll of Florist's Tape
Wire cutters
I bought a cluster of silk flowers (shown above) for .89 cents,
and the Florist's tape was only .79 cents, and has enough to make a ga-zillion pens. (Give or take a billion)
And truthfully, I didn't use wire cutters. I snipped the wire on the flowers with an old pair of scissors.

Take care when snipping the flower from the bunch. Always use adequate protection and care, and snip the flowers for children.
Step One: Snip the flower about 2"--2 1/2" or so down the stem.

If the flower has a separate leaf attached, push it up to the flower
so there is no space between the leaf and flower.

Step Two: tear off a 6" piece of the Florist's tape.
Use it to wrap around the pen and flower stem, as shown.

This is just to hold it in position until you can get the rest of the pen wrapped.

Here you can see this 6" piece in place.

Step Three: Wrap Florist's Tape around the rest of the pen, starting in the middle of the taped area done in Step Two. First, wrap up towards the flower and cover the top of the pen, and then (do not break tape, just continue) wrap down to the bottom of the pen.

If you plan to put the pen cap back on, only wrap down to where it will touch, as the pen cap will not go on over the tape.