The Real Hitty has a LOT of Stuff!
(And you wonder why our Hittys want presents!)
All pictures are copyright protected, and if you want to use them in any way
you must contact us for permission first.
(You May Click Here to Read the 'Appropriate Uses' List for the Museum Pictures, to determine if you need to ask permission.)
The pictures were taken through glass, so there may be some glare apparent.
All of these items were in the display case with the Real Hitty at Stockbridge, September 2006.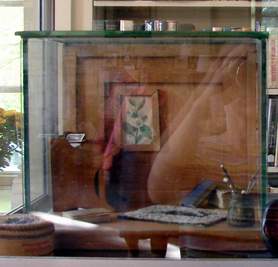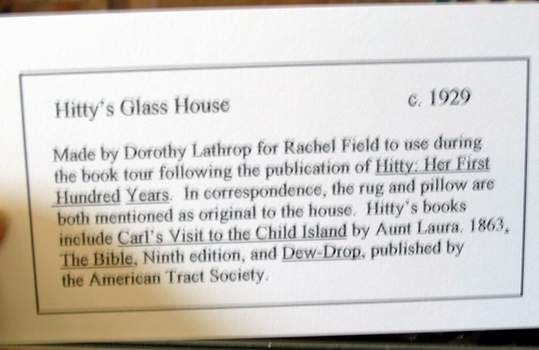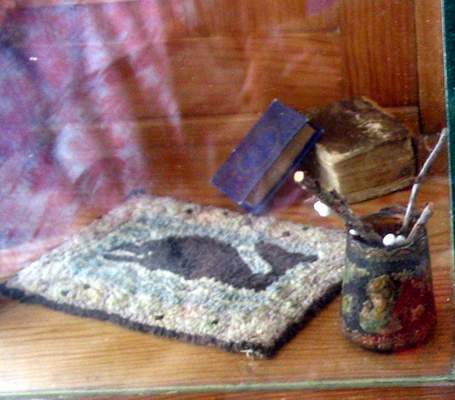 The rug is original to the Glass House.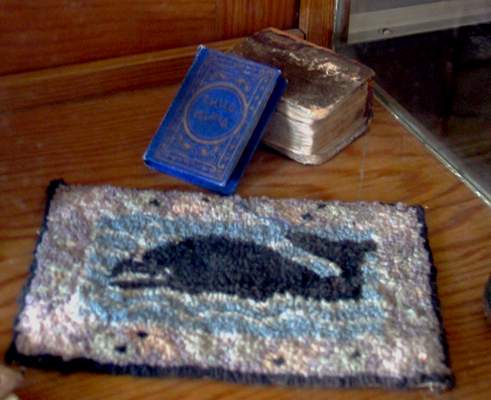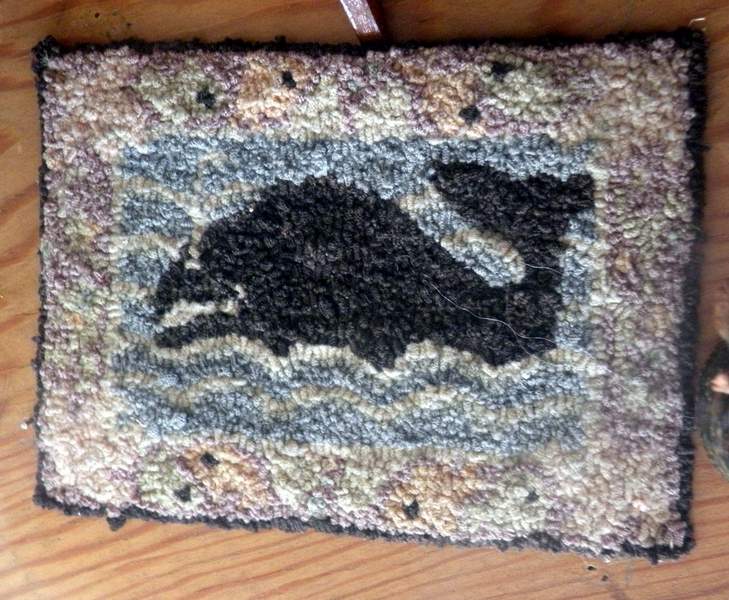 The rug is original to the Glass House.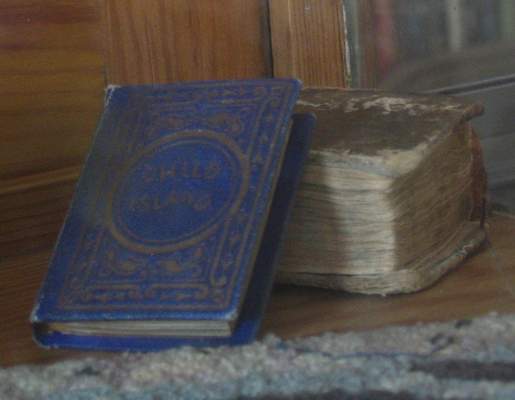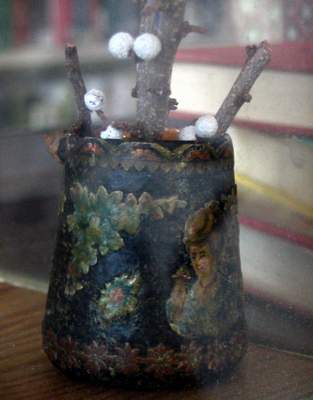 Blue book: "Carl's Visit to Child Island" by Aunt Laura, 1863
The Bible, Ninth Edition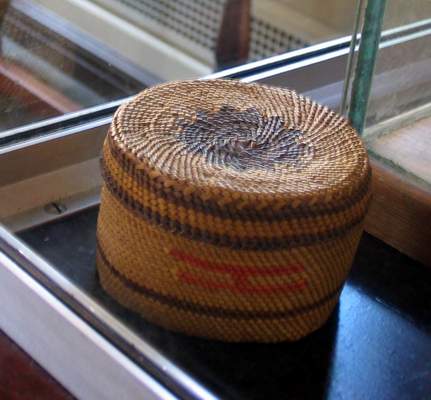 A Sweetgrass Basket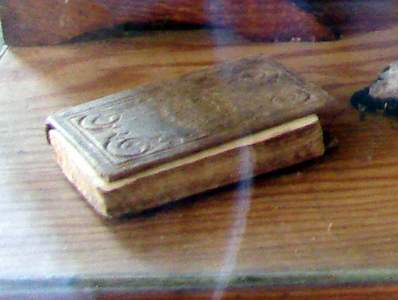 "Dew-Drop", published by the American Tract Society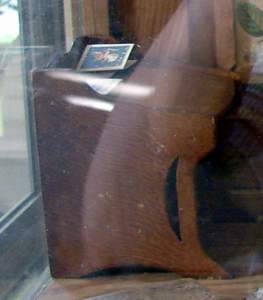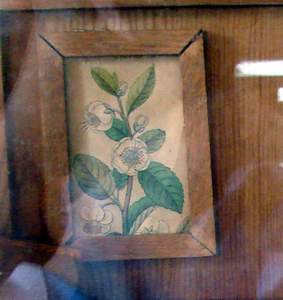 Hitty's desk.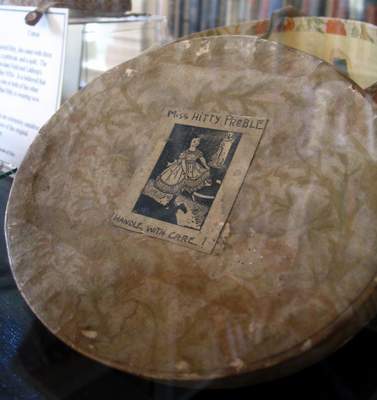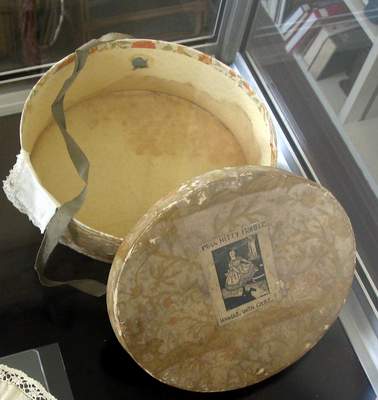 Her box is covered with paper, and the inside isn't covered at all, the outside paper just wraps to the inside.
If you look closely at the paper wrapped to the inside rim, you can see how faded the outer cover has become.
You can also see the bit of the ribbon that ties around the box. It was fastened through a hole in the sides of the box.
On the lid, there is a small cut-out picture of Hitty from the book, with the hand-printed words "Miss Hitty Preble" above it,
and "Handle With Care!" under it, in ink. In the book, the picture has
this caption: "My spirit was willing but my pegs were not." (pg 137, Hitty Her First Hundred Years)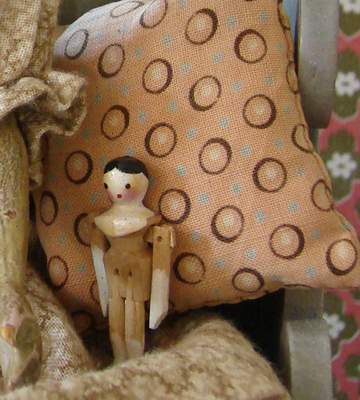 This pillow was original to the Glass House.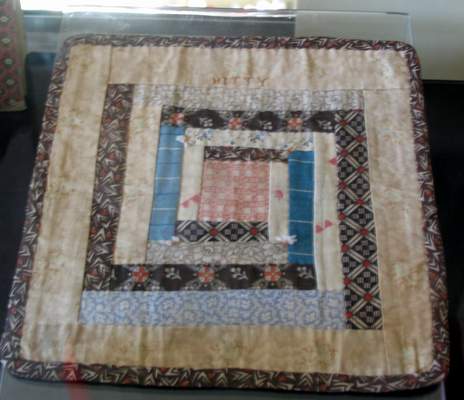 Hitty's Calico 'Summer' Quilt
Click Here to see a bigger picture.
From an excerpt of a letter written by Rachel Field: "In Hitty's room the most unusual piece
is a four-poster bed with a canopy that was made on a plantation in Louisiana where she
and I visited the year we went out to the coast to get the Newbery Medal. Our thoughtful hostess
took HItty's measurements and months after the bed arrived all fitted out with sheets and pillows
and two handmade patchwork quilts, a calico one for summer and a silk one for best with no
less than a hundred and thirty tiny patches in it."--"Where is Hitty" by Dottie Baker, February/March 1986 Doll Reader.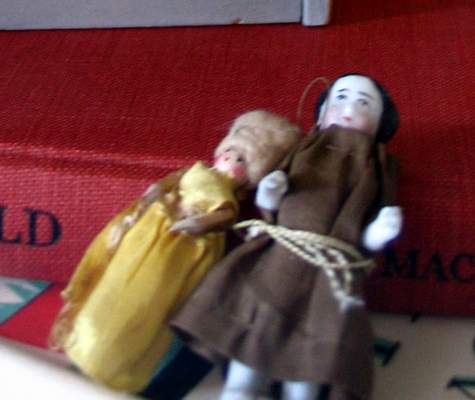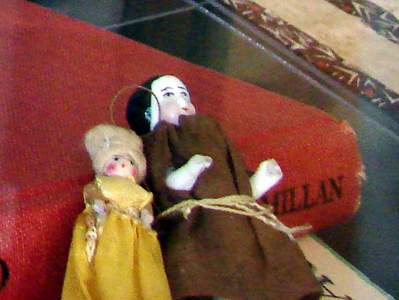 Two darling tiny little dolls.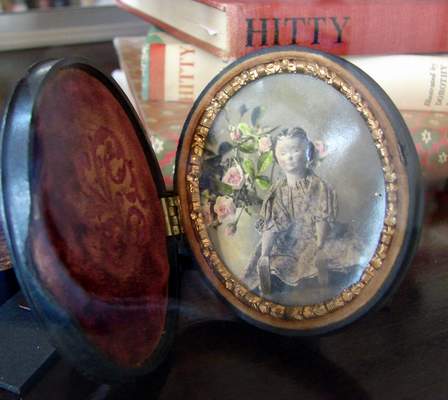 Hitty's daguerreotype, in which she is wearing her original brown sprigged calico dress.